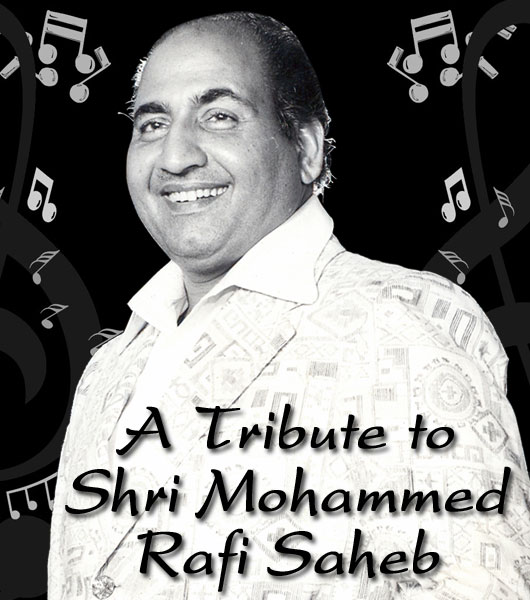 My Tribute to
Very very hard core fan of Rafi Saheb, who has contributed immensely to the Indian film industry. His contribution is more than 60%. But alas the same went unnoticed by the industry and the Indian government. The government awarded Padma Shri to Rafi Saheb in 1967 & thats all !
While this great soul deserved much more than it. He was and is the right candidate for Bharat Ratna and Dada Saheb Phalke Award. But the vested interests claimed that Dada Saheb Phalke award is given to an artiste while he is alive but how come they forget that late Shri Prithvi Raj Kapoor had been awarded this coveted award after he passed away ? However Rafi Saheb, the great singer does not need such recognition from any institute. He was an institution in himself. Rafi Saheb was an artiste who had lent his voice to other legendary singer, Kishore Kumar when he needed it the most in his films like Shararat, Ragini etc.. where he was starring as hero though Kishore Kumar was an established singer himself.
Being a huge fan of Rafi Saheb Milan Singh rendered her tribute by single handedly installing PADMASHRI MOHD. RAFI CHOWK in Bandra where he lived all his life.The lyricist of the following song Mr. Zaheer Anwar was getting cold shoulders from film industry for more than 8 years, And then in 1989 the lyricist met Milan Singh with the lyrics. She felt privileged to get it specially composed by Mr. Sayyed Ali and rendered her voice as a tribute to the Legend Shri Mohammed Rafi Saheb... The most beautiful soul…. With this belief that, this song deserves to be heard by his fans worldwide. So hear it is….